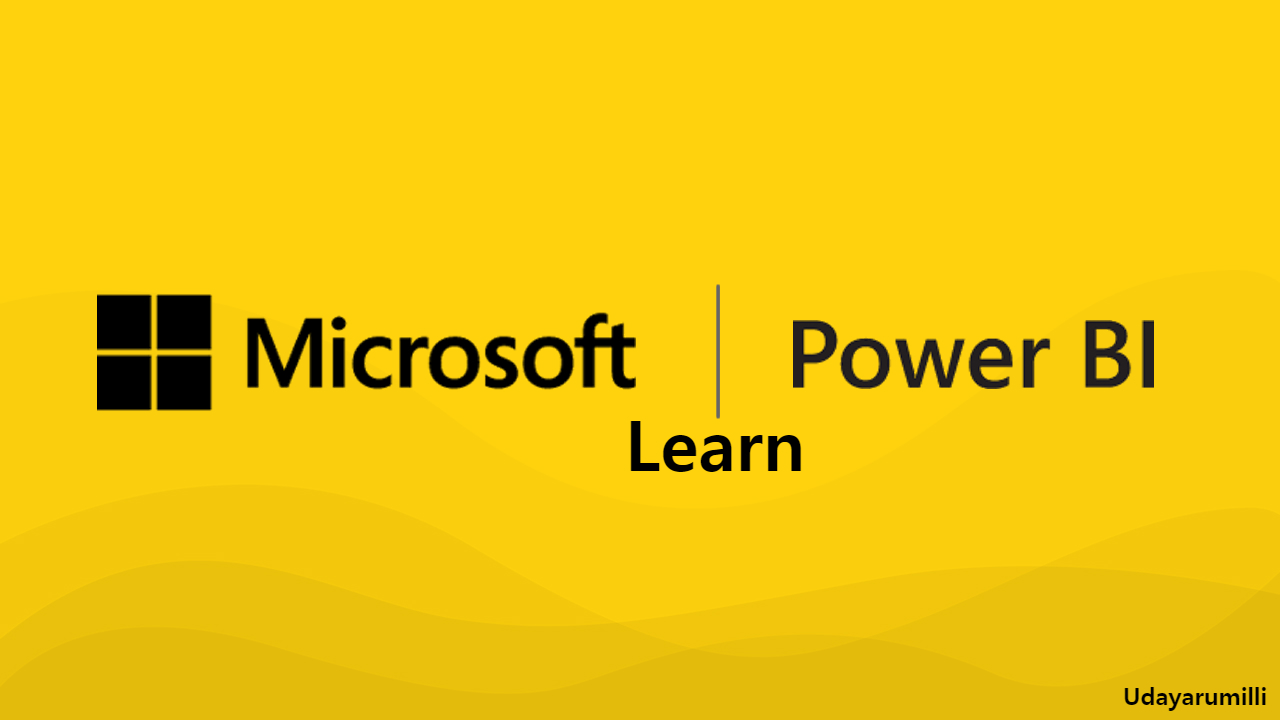 This post will give you a small introduction on How to "Learn Microsoft Power BI". I thought of blogging on Microsoft Power BI when I meet one of my friends. He wants to learn Power BI, he tried to join an institute but end of the day he found it's difficult to manage the time due to a tight job schedule and odd timings. I suggested him to start self-learning and that's one of the best ways to learn a new technology and I promised him that I'll help on something. So let's see the insights of Microsoft Power BI.
 Q. What is Power BI?
Ans:
Power BI is a cloud based self-service business intelligence tool where we can easily create, publish and share business reports and dashboards. It's easy because the end users need not to write a program / algorithm to create reports and it does just require a basic training on how to use Power BI.
Q. Why Power BI?
Ans:
In order to answer this question we should know why business reports and dashboards are required? And the answer is:
Analyze the past trends
Predict the future trends
Identify the business growth area
Power BI features:
Allow non-technical business users to create reports themselves
Access your business reports from anywhere securely
You can customize the visualizations
Power BI's user interface is fairly intuitive for those users familiar with Excel
Easy to learn and implement
Embed Power BI reports in your applications
We can happily use the free version for small and mid-scale organizations
Q. What are the licensing costs?
Ans:
Power BI available in three versions:
Power BI Desktop: It's free to use in your organization or as an individual user
Power BI Pro: Professional license (10$ Per Month per user) adds more features
Power BI Premium: Can benefit the large scale enterprises.
For version vise features please have a look at here.
Q. What are other alternatives for Microsoft Power BI?
Ans:
Power BI is one of the top Self-Service business intelligence tools, but it always might not suits your business requirement. Below are the some of the alternatives available in market:
Etc…..
Q. What are the prerequisites to learn Microsoft Power BI?
Ans:
Just 30 min of your valuable time per day and a desire to learn Power BI nothing else
It would be helpful if you know:
Microsoft Excel
Pivot Tables
Basics of Dimensions, Facts and Cubes
Basic SQL Queries
Q. What are the Jobs / roles available for Microsoft Power BI?
Ans:
You may hardly find the dedicated Power BI developer roles but adding a Power BI skill to your profile might increase 20 to 30 percent of weightage based on your profile back ground. If you are working in analytics, business intelligence, SQL development, .NET, Sales, Business Development & Management (Non-Technical) etc. will surely helpful for you to grow. But as per the current market trend mostly Power BI is asking along with the other Microsoft product experience ex: MSBI, SQL Server Developer, Microsoft Dynamics, Data warehousing
Let's start learning Power BI.