Update Without Where Clause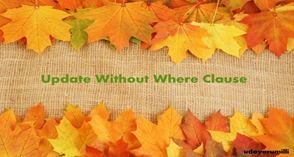 Running Update Without Where Clause might causes a data damage when it is with the critical table that creates a lot of problems and escalations. Recently while working with one of the customer we had a situation where a DBA executed the release script on production and the script contains an update statement without where clause. He immediately realized that he executed an update statement without where clause and he reported us explaining the situation. There were few things we found:
The change request implemented on a premium database
Update statement provided from Pre-Prod team which is not having any control on that:
No Where clause
No Transaction control – Commit / Rollback
No Validation on update – Validating and Reporting
As per the business requirement single record should be updated but in real it updates all records in that table.
Usually when a DBA implements a CR on prod server a backup or snapshot has to be taken prior to implementing the change. Since it was a small database (6 GB) he did take a full backup before implementing the CR.
Solution we have provided: