Automate database restore procedure SQL Server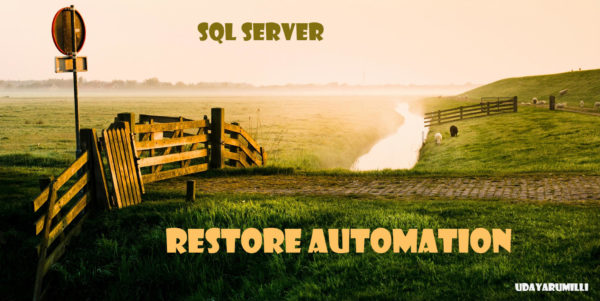 Make sure that the stored procedure "[dbo].[DB_Restore]" is available at Target Instance master database.
 Connect to target server instance and open a new query window from SSMS
Why Database Restore Automation?
It reduce the manual efforts in gathering file details.
Mostly restores happens in cross environments in this case this procedure can handle the file locations and naming conventions.
We can see the complete error details and also it verify the space details before starting the actual operation.
Get the backup file location and database name to which the backup needs to be restored as and execute the stored procedure as below:
@

BackupFile_Path

=

'D:\SQLDBA\Test_bkp.bak'
Output:
Check database to make sure that it is online.
Stored Procedure Code: Restore Automation Procedure code:
SQL Server Database Restore Automation
1

2

3

4

5

6

7

8

9

10

11

12

13

14

15

16

17

18

19

20

21

22

23

24

25

26

27

28

29

30

31

32

33

34

35

36

37

38

39

40

41

42

43

44

45

46

47

48

49

50

51

52

53

54

55

56

57

58

59

60

61

62

63

64

65

66

67

68

69

70

71

72

73

74

75

76

77

78

79

80

81

82

83

84

85

86

87

88

89

90

91

92

93

94

95

96

97

98

99

100

101

102

103

104

105

106

107

108

109

110

111

112

113

114

115

116

117

118

119

120

121

122

123

124

125

126

127

128

129

130

131

132

133

134

135

136

137

138

139

140

141

142

143

144

145

146

147

148

149

150

151

152

153

154

155

156

157

158

159

160

161

162

163

164

165

166

167

168

169

170

171

172

173

174

175

176

177

178

179

180

181

182

183

184

185

186

187

188

189

190

191

192

193

194

195

196

197

198

199

200

201

202

203

204

205

206

207

208

209

210

211

212

213

214

215

216

217

218

219

220

221

222

IF

OBJECT_ID

(

'[dbo].[DB_Restore]'

)

IS

NOT

NULL

DROP

PROC

[

dbo

]

.

[

DB_Restore

]

;

/*******************************************************************/

-- Proc_Type Date_Modified Created_By Description

-- Automation 19-Oct-2012 UDAY Initial

-- @DBName: Database Name to be restored

-- @BackupFile_Path: Fully qualified Backup file name

-- EXECUTE [DB_Restore] 'Test','C:\U_World\Shared\Test_bkp.bak'

/*******************************************************************/

CREATE

PROCEDURE

[

dbo

]

.

[

DB_Restore

]

(

@

BackupFile_Path

VARCHAR

(

255

)

)

DECLARE

@

DBFilename

VARCHAR

(

100

)

,

@

DBLogFilename

VARCHAR

(

100

)

,

@

DBDataFile

VARCHAR

(

100

)

,

@

v_strDBLogFile

VARCHAR

(

100

)

,

@

ExecSQL1

NVARCHAR

(

1000

)

,

@

ReplaceFlag

NVARCHAR

(

50

)

,

@

ServerVersion

NVARCHAR

(

20

)

,

@

RestorePath

VARCHAR

(

500

)

   

/**** Update @ReplaceFlag depends on database existence****/

IF

exists

(

select

name

from

sys

.

databases

where

name

=

@

DBName

)

SET

@

ReplaceFlag

=

', REPLACE'

/*** Create table ##FILE_LIST to hold file infor from backup file ***/

SET

@

ListSQL

=

@

ListSQL

+

'IF (EXISTS (SELECT 1 FROM TEMPDB..SYSOBJECTS WHERE NAME = '

'##FILE_LIST'

'))'

SET

@

ListSQL

=

@

ListSQL

+

'BEGIN'

SET

@

ListSQL

=

@

ListSQL

+

'   DROP TABLE ##FILE_LIST '

SET

@

ListSQL

=

@

ListSQL

+

'END '

SET

@

ListSQL

=

@

ListSQL

+

'CREATE TABLE ##FILE_LIST ('

SET

@

ListSQL

=

@

ListSQL

+

'   LogicalName VARCHAR(64),'

SET

@

ListSQL

=

@

ListSQL

+

'   PhysicalName VARCHAR(130),'

SET

@

ListSQL

=

@

ListSQL

+

'   [Type] VARCHAR(1),'

SET

@

ListSQL

=

@

ListSQL

+

'   FileGroupName VARCHAR(64),'

SET

@

ListSQL

=

@

ListSQL

+

'   Size DECIMAL(20, 0),'

SET

@

ListSQL

=

@

ListSQL

+

'   MaxSize DECIMAL(25,0),'

SET

@

ListSQL

=

@

ListSQL

+

'   FileID bigint,'

SET

@

ListSQL

=

@

ListSQL

+

'   CreateLSN DECIMAL(25,0),'

SET

@

ListSQL

=

@

ListSQL

+

'   DropLSN DECIMAL(25,0),'

SET

@

ListSQL

=

@

ListSQL

+

'   UniqueID UNIQUEIDENTIFIER,'

SET

@

ListSQL

=

@

ListSQL

+

'   ReadOnlyLSN DECIMAL(25,0),'

SET

@

ListSQL

=

@

ListSQL

+

'   ReadWriteLSN DECIMAL(25,0),'

SET

@

ListSQL

=

@

ListSQL

+

'   BackupSizeInBytes DECIMAL(25,0),'

SET

@

ListSQL

=

@

ListSQL

+

'   SourceBlockSize INT,'

SET

@

ListSQL

=

@

ListSQL

+

'   filegroupid INT,'

SET

@

ListSQL

=

@

ListSQL

+

'   loggroupguid UNIQUEIDENTIFIER,'

SET

@

ListSQL

=

@

ListSQL

+

'   differentialbaseLSN DECIMAL(25,0),'

SET

@

ListSQL

=

@

ListSQL

+

'   differentialbaseGUID UNIQUEIDENTIFIER,'

SET

@

ListSQL

=

@

ListSQL

+

'   isreadonly BIT,'

SET

@

ListSQL

=

@

ListSQL

+

'   ispresent BIT'

SELECT

@

ServerVersion

=

CAST

(

SERVERPROPERTY

(

'PRODUCTVERSION'

)

AS

NVARCHAR

)

IF

@

ServerVersion

LIKE

'10.%'

OR

@

ServerVersion

LIKE

'11.%'

OR

@

ServerVersion

LIKE

'12.%'

SET

@

ListSQL

=

@

ListSQL

+

', TDEThumbpr DECIMAL'

SET

@

ListSQL

=

@

ListSQL

+

')'

INSERT

INTO

#

#

FILE_LIST

EXEC

(

'RESTORE FILELISTONLY FROM DISK = '

''

+

@

BackupFile_Path

+

''

''

)

ALTER

TABLE

#

#

FILE_LIST

ADD

D_File

VARCHAR

(

150

)

/*** Get the default file location. It help us when database is not already exists ***/

SELECT

TOP

(

1

)

@

RestorePath

=

 

physical_name

FROM

sys

.

master_files

;

SET

 

@

RestorePath

=

REPLACE

(

@

RestorePath

,

RIGHT

(

@

RestorePath

,

CHARINDEX

(

'\', REVERSE(@RestorePath))-1),'

')

/*** Capture information od data files - MDF, NDF and LDF ***/

/*** We have two cases 1. Database is already there is instance ***/

/*** 2. New database Restore (ELSE) ***/

IF EXISTS (SELECT 1 FROM SYS.SYSDATABASES WHERE NAME=@DBName)

DECLARE @DataFile VARCHAR(150),

SELECT TOP 1 @DataFile = physical_name

WHERE Database_ID = DB_ID(@DBName) AND TYPE=0;

SELECT TOP 1 @LogFile = physical_name

WHERE Database_ID = DB_ID(@DBName) AND TYPE=1;

WHERE TYPE='

D

' AND FileID=1;

SET D_File = LEFT(@DataFile,LEN(@DataFile)-4)+'

_

'+CONVERT(VARCHAR(5),FILEID)+'

.

ndf

'

WHERE TYPE='

D

'AND FileID=1;

SET D_File =LEFT(@LogFile,LEN(@LogFile)-4)+'

_

'+CONVERT(VARCHAR(5),FILEID)+'

_log

.

ldf

'

SET D_File=@RestorePath+@DBName+'

.

mdf

'

WHERE TYPE='

D

'AND FileID=1;

SET D_File=@RestorePath+@DBName+'

_

'+CONVERT(VARCHAR(5),FILEID)+'

.

ndf

'

WHERE TYPE='

D

'AND FileID=1

SET D_File=@RestorePath+@DBName+'

_

'+CONVERT(VARCHAR(5),FILEID)+'

_log

.

ldf

'

    /*** Loop through the all files mdf,ldf and ndf ****/

    /*** Form a string "MOVE" To MDF, MOVE LDF etc ***/

DECLARE CurFiles CURSOR FOR

SELECT '

MOVE

N

''

' + LogicalName + '

''

TO

N

''

' + D_File + '

''

'

FETCH NEXT FROM CurFiles into @Temp

SET @MoveSQL = @MoveSQL + @Temp + '

,

'

FETCH NEXT FROM CurFiles into @Temp

/*** Kill all connections to the database before restore ***/

PRINT '

Killing

active

connections

to

the

database

:

' + @DBName + CHAR(10)

SELECT   @ExecSQL = @ExecSQL + '

kill

' + CONVERT(CHAR(10), spid) + '

'

FROM     master.dbo.sysprocesses

WHERE    DB_NAME(dbid) = @DBName AND DBID <> 0 AND spid <> @@spid

AND status <> '

background

'

AND status IN ('

runnable

','

sleeping

')

/*** Restore Database ***/

PRINT '

Restoring

' + @DBName + '

;

database

from

' + @BackupFile_Path + CHAR(10)

SET @ExecSQL = '

RESTORE

DATABASE

[

' + @DBName + '

]

'

SET @ExecSQL = @ExecSQL + '

FROM

DISK

=

''

' + @BackupFile_Path + '

''

'

SET @ExecSQL = @ExecSQL + '

WITH

FILE

=

1

,

'

SET @ExecSQL = @ExecSQL + @MoveSQL

SET @ExecSQL = @ExecSQL + '

NOREWIND

,

'

SET @ExecSQL = @ExecSQL + '

NOUNLOAD

,

STATS

=

10

'

SET @ExecSQL = @ExecSQL + @ReplaceFlag

PRINT '

/**************************************************/

'

PRINT '

/****** Start Restore Operation *******************/

'

PRINT '

/**************************************************/

'

PRINT '

/**************************************************/

'

PRINT '

/****** Restore Operation Completed ***************/

'

PRINT '

/**************************************************/

'

PRINT '

Restore

Failed

with

error

' + ERROR_MESSAGE()

IF (EXISTS (SELECT 1 FROM TEMPDB..sysobjects WHERE NAME ='

#

#

FILE_LIST

'))

/*** Drop the temp table  ***/

IF (EXISTS (SELECT 1 FROM TEMPDB..sysobjects WHERE NAME ='

#

#

FILE_LIST

'))

PRINT CHAR(10)+'

Database

' + @DBName +'

Restored

Successfully

'